Stuff by Dalennau
I'm still figuring out what to do with this, give me a bit.
What do I even put here. Here I have a Tumblr. Check it.
Things I think I might add here eventually:
drawings
writings
my voice demo
just a link to everything of mine on the internet, like a Linktree or something
maybe my PayPal link
maybe I'll put up a shop link or something if I ever make more stuff to sell I dunno
Maybe I should order some of these like an organized person who gets things done:
make more things for my portfolios
assemble my portfolios
maybe find someone to review my portfolios?
post my portfolios
record more things for my voice demo
edit together my voice demo
maybe get someone experienced to listen to my demo?
post my demo
polish this site
share this site with my portfolios and my demo?
???
Do I profit yet?
Here's a cat.

She loves you.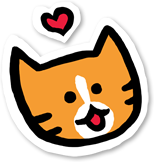 Boy I've got some notes already.
I'm supposed to be able to put an image on here with just the "/image.png" part if it's already on the Neocities site what is up with that.
Same deal with links and "/page" but for some reason it just wants to link to a page on my own site and not Neocities itself.
Also this text editor is slow and funky as hell. Cursor does not align with the text I expect it to. Is this my work computer's weird security settings or the site itself.
Turns out it's the computer I was using. Brave browser on my personal desktop is running the editor just fine, no lag and no weird cursor placement. Guess I know where I'm not editing this thing.
Can you tell I'm screwing around with tags to learn how to use them? I bet you can.

I see that extra paragraph tags do not, in fact, insert extra space between regular paragraphs. Boo.

... But apparently they DO work (once) if they're used as part of a list?

????

I am so confused I just tried to change my font and background color and it seemed to do nothing but then I changed just one and then it worked? And then I changed it back to the change I was originally making and it still worked instead of returning to the same? How long does it take to refresh a page?
Boy I better not delete this link for all these HTML/CSS tutorials that can show me how to do all the good stuff. That would be bad.
Anyway bye for now. Look at my Tumblr.